Melanesian activism
The struggle echoed the current Melanesian activism in West Papua today with advocates seeking political justice and independence from Indonesian colonial rule.
The Greenpeace tragedy was one of several happening in the Pacific at the time, and this was really overshadowed by the Rongelap evacuation when the Rainbow Warrior crew ferried some 320 islanders, plagued by ill-health from the US atmospheric mega nuclear tests in the 1950s, from their home in the Marshall Islands to a new islet, Mejato, on Kwajalein Atoll.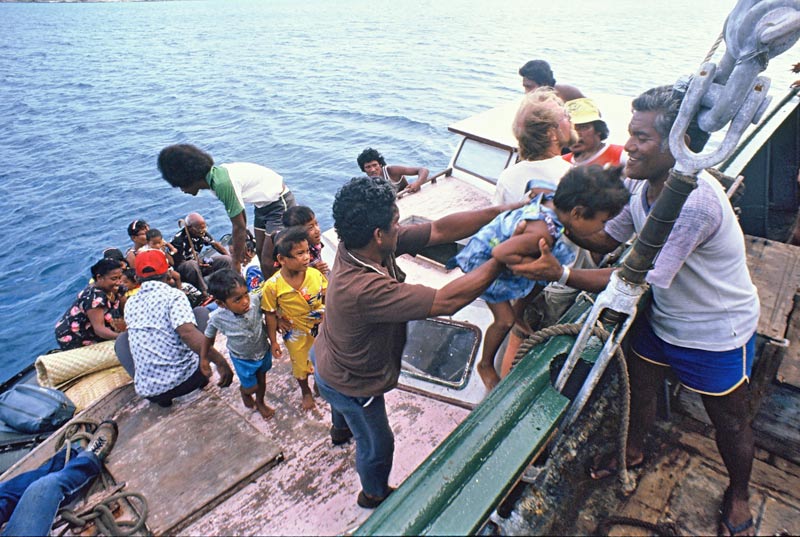 Over the next few years, after the start of the Kanak uprising, New Caledonia suffered a series of bloody incidents because of hardline French neocolonial policies:
The Hiènghene massacre on 5 December 1984 when 10 unarmed Kanak political advocates were ambushed by heavily armed mixed-race French settlers on their way home to their village after a political meeting. (Charismatic Kanak independence leader Jean-Marie Tjibaou lost two brothers in that ambush when almost all the menfolk of the village of Tiendanite were gunned down in one deadly night.)
The assassination of Kanak independence leader Eloï Machoro and his deputy, Marcel Nonaro, by French special forces snipers at dawn on 12 January 1985 during a siege of farmhouse at Dogny, near la Foa.
The infamous cave siege of the island of Ouvea when French forces used a "news media" helicopter as a ruse to attack 19 young militant Kanaks holding gendarmes hostage, killing most of them and allegedly torturing wounded captives to death. The 11th Shock Unit carried out this attack – the same unit (known then as the Service Action squad) to carry out Operation Satanic against the Rainbow Warrior.
The human rights violations involved in this attack were exposed in the 2012 docu-drama movie Rebellion by director Mathieu Kassovitz, based on a book by a hostage negotiator who believed he could have achieved a peaceful resolution.
France had its problems in Vanuatu too. Founding Prime Minister Father Walter Lini's government expelled ambassador Henri Crepin-Leblond shortly before the election on 30 November 1987, accusing Paris of funding the opposition Union of Moderate Parties – a claim denied by the French.
There were also riots in French Polynesia when young Tahitians set the capital ablaze with demands of an end to nuclear testing and to colonial rule. But these came a decade later in September 1995 after mounting tensions.
Two years later, in December 1997, a French Polynesian journalist known for his liberal views Les Nouvelles de Tahiti editor Jean-Pascal Couraud, known as "JPK", disappeared and he was believed assassinated by local presidential special ops militia.