'Living reef'
After being awarded $8 million in compensation from France by the International Arbitration Tribunal, Greenpeace finally towed the Rainbow Warrior to Matauri Bay and scuttled her off Motutapere, in the Cavalli Islands, on 12 December 1987 to create a "living reef".
An earlier compensation deal for New Zealand mediated in 1986 by United Nations Secretary-General Javier Perez de Cuellar awarded the Government $13 million (US$7 million) – the money was used for an anti-nuclear projects fund and the Pacific Development and Conservation Trust.
The agreement was supposed to include an apology by France and deportation of jailed secret agents Alain Mafart and Dominique Prieur after they had served less than a year of their 10-year sentences for manslaughter and wilful damage of the bombed ship (downgraded from charges of murder, arson and conspiracy).
They were transferred from New Zealand to Hao Atoll in French Polynesia to serve three years in exile at a "Club Med" style nuclear and military base.
But the bombing scandal didn't end there. The same day as the scuttling of the Rainbow Warrior in 1987, the French government told New Zealand that Major Mafart had a "serious stomach complaint". The French authorities repatriated him back to France in defiance of the terms of the United Nations agreement and protests from the David Lange government.
It was later claimed by the Tahitian newspaper Les Nouvelles that Mafart was smuggled out of Tahiti on a false passport hours before New Zealand was even told of the "illness". Mafart reportedly assumed the identity of a carpenter, Serge Quillan.
Captain Prieur was also repatriated back to France in May 1988 because she was pregnant. France ignored the protests by New Zealand and the secret agent pair were honoured, decorated and promoted in their homeland.
Supreme irony
A supreme irony that such an act of state terrorism should be rewarded in this age of a so-called "war on terrorism".
In 2005, their lawyer, Gerard Currie, tried to block footage of their guilty pleas in court – shown on closed circuit to journalists at the time but not previously seen publicly – from being broadcast by the Television New Zealand current affairs programme Sunday.
Losing the High Court ruling in May 2005, the two former agents appealed against the footage being broadcast. They failed and the footage was finally broadcast by Television New Zealand on 7 August 2006 – almost two decades later.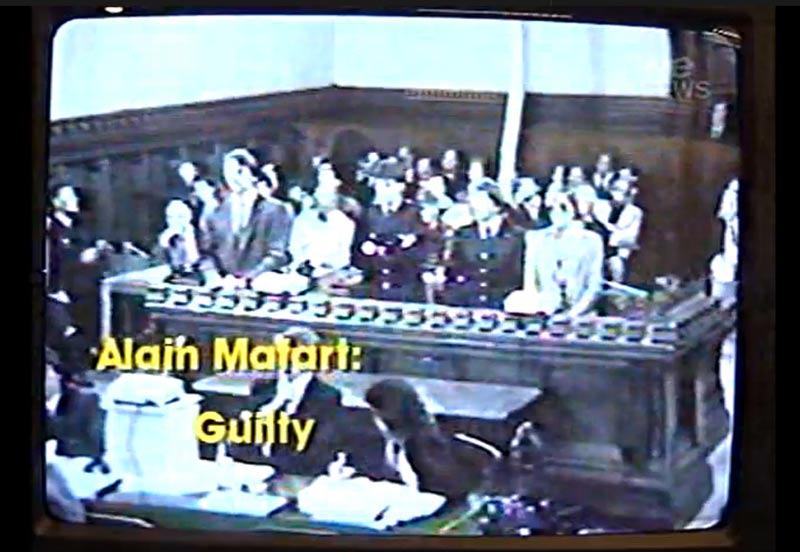 They had lost any spurious claim to privacy over the act of terrorism by publishing their own memoirs – Agent Secrète (Prieur, 1995) and Carnets Secrets (Mafart, 1999).
Mafart recalled in his book how the international media were dumbfounded that the expected huge High Court trial had "evaporated before their eyes", describing his courtroom experience:
I had an impression of being a mutineer from the Bounty … but in this case the gallows would not be erected in the village square. Three courteous phrases were exchanged between [the judge] and our lawyers, the charges were read to us and the court asked us whether we pleaded guilty or not guilty. Our replies were clear: 'Guilty!' With that one word the trial was at an end.
Ironically, Mafart much later became a wildlife photographer, under the moniker Alain Mafart-Renodier, and filed his pictures through the Paris-based agency Bios with a New York office. Greenpeace US engaged an advertising agency to produce the 2015 environmental calendar illustrated with wildlife images.
As Greenpeace chronicler and photojournalist Pierre Gleizes describes it: "Incredibly bad luck, out of millions, the agency bought one of Alain Mafart's pictures to illustrate a Greenpeace calendar. Fortunately, someone saw that before it got distributed. So Mafart got his fee, but 40,000 calendars were destroyed."